McDonald's also has Metaverse ambitions…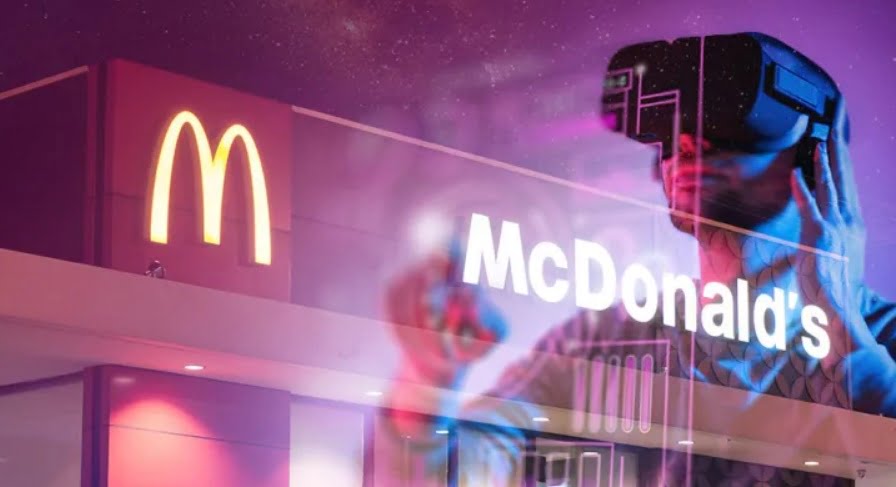 Restaurant chain McDonald's recently filed ten metaverse trademarks with the US Patent and Trademark Office.
The fast food chain McDonald's wants to enter the Metaverse. The company has filed ten trademark applications for the virtual space, said Josh Gerben of Gerben Intellectual Property. The applications submitted on February 4 show plans for a virtual restaurant with real and virtual offers.
The virtual burger universe
McDonald's wants to run a virtual restaurant with home delivery. In addition, the restaurant will offer downloadable multimedia files such as artwork, audio and video files, and non-counterfeitable tokens (NFTs).
McDonald's also wants to include his coffee chain McCafe in its Metaverse plans . The brand would offer entertainment services such as online real and virtual concerts and other virtual events.
Should those plans become a reality, the golden arches would compete with other virtual concert promoters like Animal Concerts. Such concerts are becoming more and more attractive as they would remove geographic barriers that prevent fans and artists from interacting. They would also reduce touring costs and the risk of contracting Covid-19 and viruses yet to come.
McDonald's Metaverse trademark filings came just a day after bakery and cafe chain Panera Bread filed a similar filing. It intends – how could it be otherwise – to offer a virtual bakery and café chain under the name PANERAVERSE. Like McDonalds, Panera will offer bread downloads and NFTs, virtual food and drinks, but also virtual conference rooms.
"I think every brand imaginable will be making filings like this in the next 12 months," Gerben told Forbes on Feb. 9, adding:
"I don't think anyone who could be there and benefit from it would just completely ignore a new technology that's on the rise."
His remarks are consistent with other events showing a growing acceptance of the metaverse, even in its early stages. Late last year, over 1,300 companies in China applied for trademarks for the Metaverse, despite opposition from the central bank. Silicon Valley tech giants like Apple , Facebook/Meta and Microsoft are also trying their hand at this. According to a February Gartner Research report, by 2026, 25% of people will be spending their time in the Metaverse.
On average, the US Patent and Trademark Office takes nine and a half months to review applications. However, Gerben is confident that neither McDonald's nor Panera Bread will have trouble getting their trademarks protected.
McDonald's new interest in Metaversal comes just two weeks after the company mocked crypto traders during the recent crypto crash.
Let's see what else is coming. Perhaps an American internist will soon apply for a patent on a therapy he has developed for an avatar's virtual fatty liver, caused by an excess of virtual BigMacs. After all, the USA is the land of unlimited impossibilities.