Samsung is launching the first NFT-compatible Smart TVs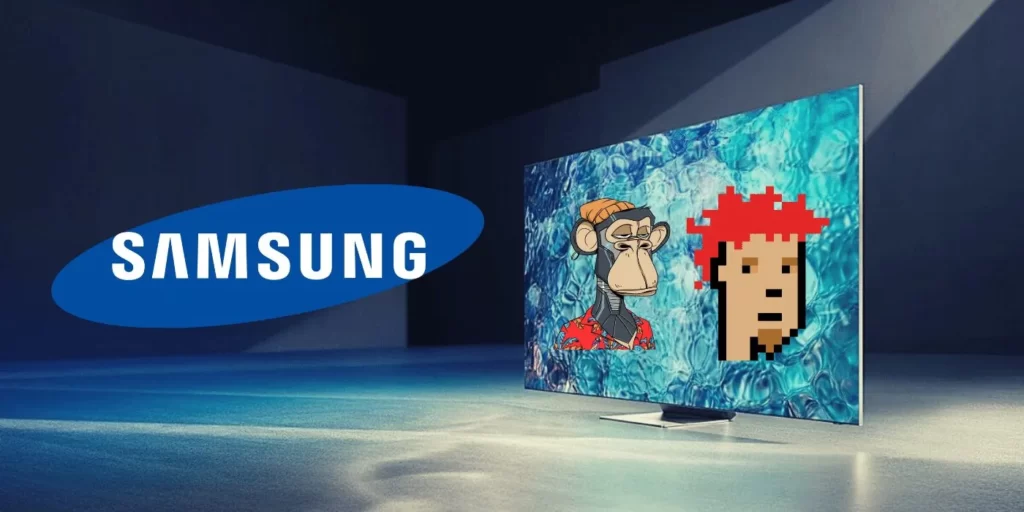 Samsung is launching a range of smart TVs compatible with NFTs in cooperation with Nifty Gateway, Gemini exchange's NFT platform. The announcement of the NFT integration had already taken place at the CES in January – but even then the question arose as to whether there was even a market for such devices.
Samsung has been a global leader in innovation for decades, whether it's with its smartphones – it's a global leader ahead of Apple – or with its other consumer electronics. The Korean giant is now the first to give consumers the ability to buy and save their NFTs on their TVs.
In a March 30 announcement, Samsung revealed that its new TV range will come with an interface that integrates Nifty Gateway, the OpenSea competitor owned by the Winklevoss twins through their Gemini exchange. Customers can buy NFTs using their credit and debit cards or any of the cryptocurrencies supported by the Gemini exchange.
The NFT platform will be integrated into Samsung's premium TV ranges this year, including the Neo QLED and QLED devices. Those who already own a Micro LED or The Frame device can download the Nifty application to use the feature as well.
Griffin Cock Foster, who co-founded Nifty with his brother Duncan in 2018 and sold it to Gemini a year later, shared :
"Through our partnership with Samsung, one of the world's leading electronics manufacturers, together we will bring NFTs to millions of mainstream users. Last year, NFTs saw a breakthrough specifically in the art market. Artists and collectors were able to see the power of this technology for themselves."
Griffin believes NFTs will have an even better year this year, surpassing their $41 billion market value in 2021. He said:
"Nifty's partnership with Samsung will provide customers with a streamlined path to purchasing and collecting NFTs. We are thrilled to have a partner like Samsung who joins us in our mission."
The big question is – who needs this?
Some had expected Samsung to partner with OpenSea, the dominant NFT marketplace where buying and selling NFTs is already streamlined. However, the electronics giant chose to work with Nifty, likely because it allows customers to store their NFTs in the Nifty wallet instead of having to send them to other wallets. This makes it easy to buy and store NFTs even if you have no experience with them.
Competitor LG Electronics has dropped its smartphone division without replacement and is now concentrating on TVs and other electronic devices. This will also include its own series of NFT-compatible Smart TVs.
But who needs a TV that stores NFTs?
A Korean NFT enthusiast was one of the first to advocate the now-common belief that TV manufacturers shouldn't jump on the NFT craze. Chung Seung-mo told a magazine:
"I don't really see the point of having an NFT trading platform on my TV. If surfing the web on a so-called smart TV is still uncomfortable, buying an NFT by TV is unlikely to be a comfortable experience."
Others have taken to social media to point out the apparent disconnect between TV and NFT.