Opera supports other blockchains and cryptocurrencies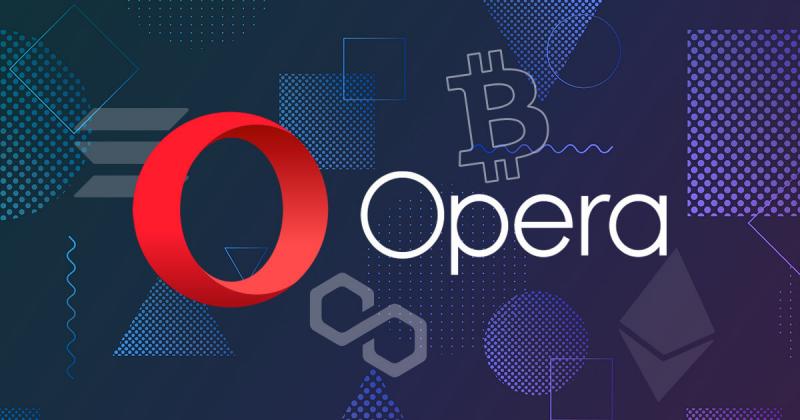 Crypto wallets built into Opera give millions of users easy access to Web 3.0. Blockchain integration gives Opera users access to several thousand DApps on the Polygon and Solana networks.
On March 30, Norwegian company Opera-Software announced that its namesake web browser has now added support for more blockchains/cryptocurrencies: they include Bitcoin, Polygon, Solana, Celo, StarEx, Ronin, Nervos and IXO. Opera had previously released the world's first Web3 browser with an integrated crypto wallet.
With the recent development of Opera, millions of active users can benefit from DApps and services offered by the mentioned blockchains/cryptocurrencies. The browser runs under the operating systems Windows, Linux, Mac, iOS, Android and Chrome , i.e. on practically every hardware platform. It is an in-house developed browser with built-in DApp support and a non-custodial crypto wallet.
It also includes the "Crypto Corner" for everything crypto related. These are crypto news, prices, gas fees, educational content, upcoming airdrops, market sentiment, etc. Opera notes that today's launch will expand its customers' access to PoS blockchains, specifically to the Ethereum Layer-2 ecosystem: Polygon and StarkEx. As a result, customers will largely benefit from faster transactions and lower gas fees. In addition, they can also gain access to Layer 2 DeFi through StarkWare-powered DiversiFi.
Opera notes that integrating the various blockchains and other Layer 2s will help engage millions of users on the Web3. Jorgen Arnesen, EVP Mobile at Opera, said :
"Since we started in the Web3 space in 2018, we have partnered with the most popular and cutting-edge blockchains and Web3 domain name providers to accelerate cryptocurrency development from proof of concept to mass adoption.Web3 is on its way to becoming a mainstream web technology, and users don't even need to know they're interacting with it. They should get a uniquely positive user experience and real benefits."
Integration Opera with Polygon and Solana
Polygon has emerged as a very capable Layer 2 scaling solution for Ethereum. The Polygon network ensures faster transactions with very low transaction costs. Additionally, Polygon is a Proof-of-Stake (PoS) blockchain, making it more environmentally friendly than the existing Ethereum 1.0 blockchain.
Polygon also hosts popular decentralized applications (DApps) from Metaverse platforms to other NFT worlds. Opera's support for Polygon will introduce its users to Ethereum's DeFi ecosystem.
On the other hand, Solana is gaining strong traction as a layer 1 competitor for the Ethereum blockchain. Solana's very high scalability, low transaction fees, and energy-efficient consensus model have made it a formidable player in the blockchain space. With this integration, Solana users will be able to access all DApps on the Solana blockchain. Jorgen Arnesen, EVP Mobile at Opera, said:
"The average web user may still be hesitant to engage with Web3, but with the integration of Solana, Polygon and others into our mobile browser, they can now access these technologies from the security and familiarity of the browser, which gives them a dedicated Web3 -Experience provides."