Tether Reserve: Money market papers completely removed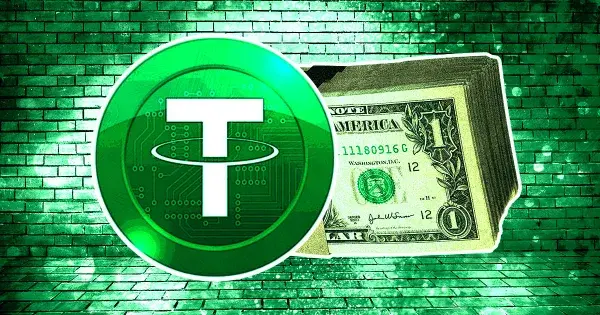 The Tether reserve is to become more secure. The company behind the largest US dollar stablecoin announced this goal months ago. Now you have reached the targeted milestone. Money market instruments are completely removed from the security.
USDT is said to be safer without commercial paper
Tether (USDT) was the first stablecoin to go uncharted territory. The project has long since developed into one of the most important cryptocurrencies. USDT is not only the frontrunner among the stablecoins. In terms of trading volume , it also leaves every other digital currency far behind.
At the same time, Tether is probably the most controversial token of all. Customers can use the stable system on several dozen blockchains – only that it really remains stable was considered questionable for years.
Since then, the company Tether Limited Inc. about improving the reputation of your own token. That is why Tether now publishes voluntary transparency reports .
In June, the stablecoin issuer announces that it will soon be removing commercial paper from the reserve . USDT recently spoke up again on the subject and declared that this goal had been achieved.
The goal of reducing this share to zero has now been achieved.
It says in the press release.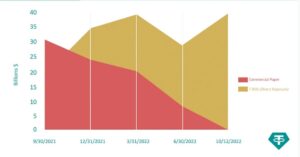 Why is Tether changing reserve in favor of T-Bills?
Tethers Reserve should appear particularly trustworthy to customers so that interest in the most popular trading currency in crypto space remains high. USDT experienced severe setbacks several months ago.
As the 2022 bear market gains momentum, more and more users are opting out. USDT is considered too big a risk. As a result , main competitor USDC is gaining more and more market capitalization – market share that comes mainly from Tether.
The USD coin is based on the same lie as Tether. A promised full dollar deposit does not exist. However, these parallels do not seem to change the public image.
Tether therefore promises to discard the profitable money market papers. Although the interest earned from Tether is higher here, a loss is more likely than with the new T-Bills.
These are better known as Treasury bills or government bonds. So the makers of the USDT buy US government bonds, on which they receive lower interest rates. However, the US is considered a powerful and liquid state. It is therefore unlikely that the lender will not be repaid.
The image of the controversial stablecoin seems to have stabilized among investors. Industry collapses since the beginning of the year fail to shake Tether.
Already knew? Tether is already the official means of payment in the Swiss city of Lugano . The company appears as a partner in a crypto initiative . The currency has also recently attained official status in a single state .