Crypto adoption on Dominica: Tron official currency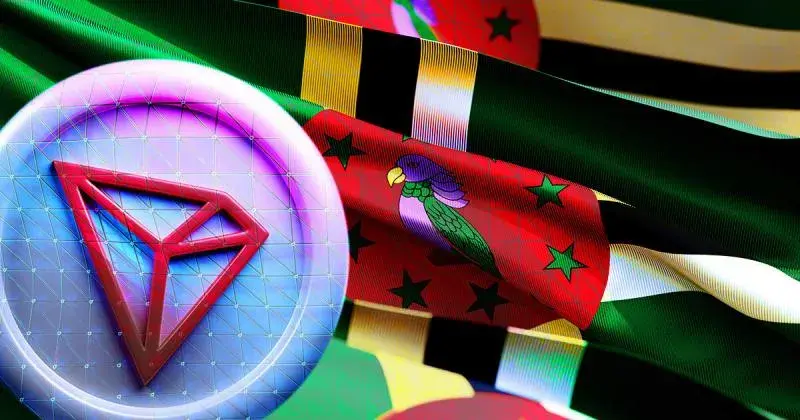 Dominica Crypto Adoption Happens! The small island nation appoints Tron as the country's official currency AND blockchain . Various tokens are also given official tender status. Other elements also make the country interesting for crypto enthusiasts.
Tron (TRX) and other tokens official means of payment on Dominica
Dominica is a small island nation in the Caribbean. 72,000 people populate the island with an area of ​​750 square kilometers. The country is now declaring Tron (TRX) to be the official means of payment. At the same time, the Tron blockchain was named the country's chosen digital infrastructure.
But not only the native token of the blockchain becomes a means of payment, but all of its tokens. This also includes other Tron projects such as BitTorrent (BTT) or the stablecoin USDD.
This also includes the largest stablecoin Tether (USDT) as a TRC-20 token as well as the tokens JST, NFT and TUSD. So users have the option to choose between different volatile and stable currencies.
The user benefits from the fast and cost-effective processing of transactions by Tron. Dominica declares state crypto adoption in an executive order signed by Prime Minister Roosevelt Skerrit on Oct. 7.
Today Tron founder Justin Sun shares the decree . Apparently, the government statement came after Sun's personal intervention. He celebrates his achievement and is already receiving compliments.
At the time of writing, TRX is not experiencing any price growth due to the news.
Dominica declares first blockchain government infrastructure
Not only do the Tron tokens receive legal tender status, but the Tron blockchain also has state-recognized status. This is what the "Crypto Ordinance" says:
The purpose of this regulation is to authorize Tron as Dominica's designated national blockchain infrastructure.
The state also wants to establish its own project on this . This is called Dominica Coin (DMC). Technical details have so far been kept secret. Only one thing is certain: the token will be developed and issued in cooperation with the Tron Foundation.
Prime Minister Skerrit states:
This is a historic step for Dominica in its quest for greater economic growth.
Accordingly, DMC is more of a PR stunt than a serious crypto project. The official designation as "Fan Token" could therefore also be consistent. Its goal is explained in an extremely unusual way:
It is intended to raise awareness of Dominica's natural heritage and help promote the country's tourist attractions worldwide.
Two goals that are not directly achievable for a digital currency.
Cryptocurrencies tax free
What taxes are levied on cryptocurrencies in Dominica? In order to attract crypto enthusiasts to the island, the state not only declares the status of legal tender, but also tax-free cryptocurrencies.
According to the regulation, this officially only affects the legal crypto tokens, but indirectly this decision could also affect holders of Bitcoin and Co.
Exchanges between Tron cryptocurrencies and the East Caribbean Dollar are not subject to a capital gains tax.
It says there. The East Caribbean Dollar (XCD) has so far been the only official national currency. Individuals investing in crypto outside of the Tron ecosystem could previously perform a crypto-to-crypto exchange to enjoy tax exemption as well.
El Salvador and the Central African Republic have so far been the only states that have declared Bitcoin as a means of payment.