NFT market implodes: trend sinks into insignificance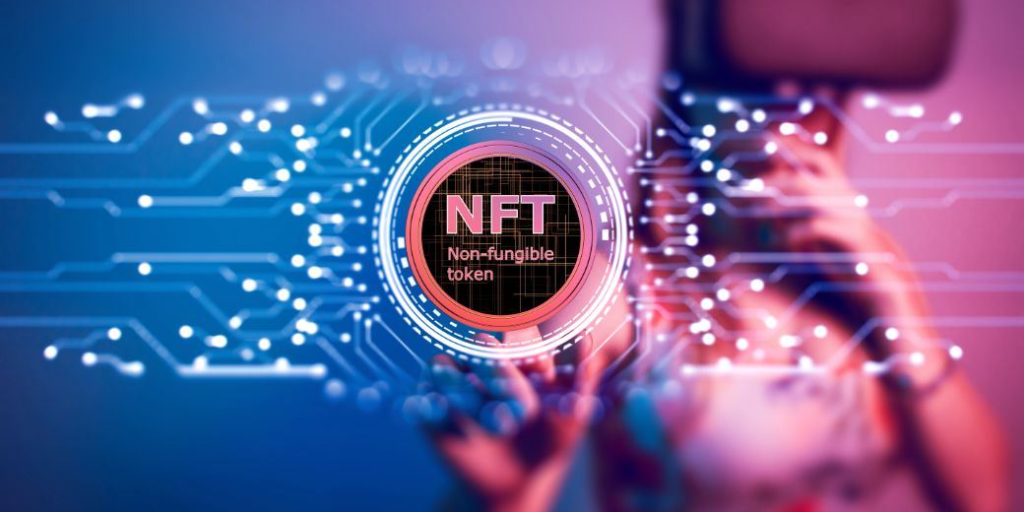 New data proves: The NFT market is imploding. A trend that started in the summer of 2021 caused explosive prices. In the meantime, the unique tokens, which have so far mainly been used as a gimmick, are sinking into insignificance.
Digital artwork hype is coming to an end
While the bear market for cryptocurrencies had already set in in November 2021 , a new high phase was just beginning for NFTs . Before the summer of last year, NFTs were almost meaningless. New data now shows: digital, distinctive works of art are on the downward trend again.
In the summer of 2021, a real madness about NFTs began. While the distinctive tokens could be a real advancement as a certificate of authenticity in various areas of life, they gained notoriety mainly as a gimmick.
Because instead of as a certificate for physical objects, they were used almost exclusively to identify specific wallet addresses on the blockchain as the owner of digital works of art.
Eventually, the success of still images was followed by moving images, audio, and digital plots within various virtual worlds, mostly marketed as a metaverse.
Various elements are responsible for the success of the non-fungible tokens. On the one hand, there are art lovers who invested large sums of money – including well-known people such as Snoop Dogg ( Cozomo de' Medici) or Eminem .
In addition, the importance of tokens increased within digital worlds. On the other hand, NFTs are also suitable for money laundering in many jurisdictions. In this way, one and the same user can sell an NFT to himself for exorbitant prices without this being exposed.
NFT prices fall dramatically
Overall, the prices of NFTs are now falling significantly. While the daily trading volume of the well-known BAYC collection was still over 400,000 US dollars in May, according to Nomics it is now only around 94,000 US dollars.
While the market value of most cryptocurrencies has fallen significantly in recent months, the NFT market initially bucked the negative sentiment and hit its all-time high in January 2022, with a monthly trading volume of around $5.6 billion.
The NFT market will most likely not see this value again any time soon, because the hype surrounding NFTs seems to be dissipating quickly. In February and March, the monthly volume is already falling significantly. In the meantime, renewed growth is achieved in April.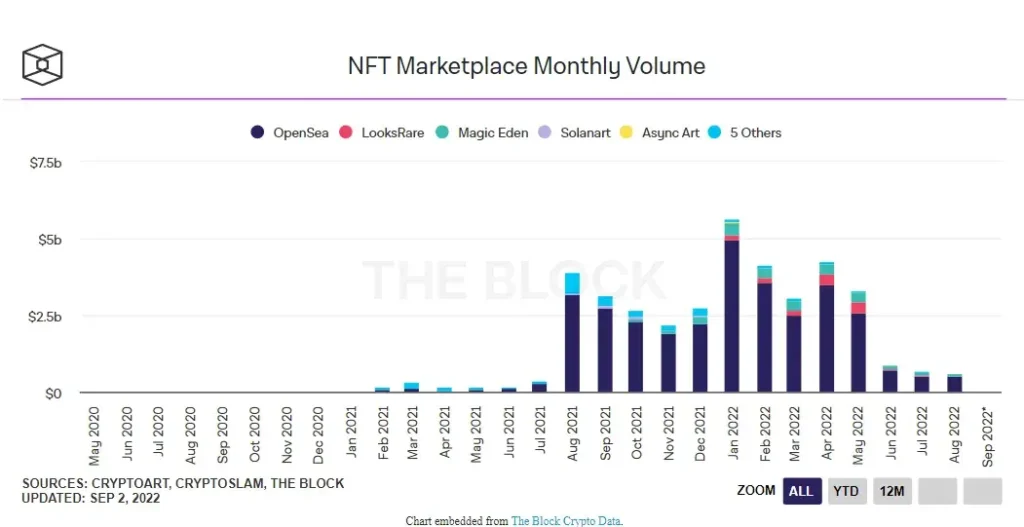 The data collected by The Block is cleaned from wash trading on LooksRare.
By June, the monthly trading volume has dropped to just $800,000. Since then, this amount has been slowly but steadily decreasing. As of August, it's around $500,000 so far.
OpenSea remains the leader
There has also been some development among the various NFT marketplaces. Only one constant is emerging: OpenSea has been the largest marketplace since May 2021. Previously, this role belonged to Nifty Gateway . OpenSea also saw by far the largest increase in trading volume.
In the summer of 2021, Artblocks was able to become OpenSea 's worst competitor, but quickly lost importance. From late 2021, a new competitor emerged: Solana -based Magic Eden, which is now in second place.
At times, LooksRare caused an enormous stir. The trading platform relied on extremely aggressive advertising and generated an enormous (but mostly fake) trading volume through the possibility of wash trading.
LooksRare is now far less popular again. Today, OpenSea is responsible for processing approximately 82 percent of NFT sales. By far the most popular blockchain for digital artworks remains Ethereum , despite high fees and low scalability.
Recently, GameStop has made headlines with its own NFT marketplace, which has so far been considered a complete success.