FTX hack: $600 million worth of coins affected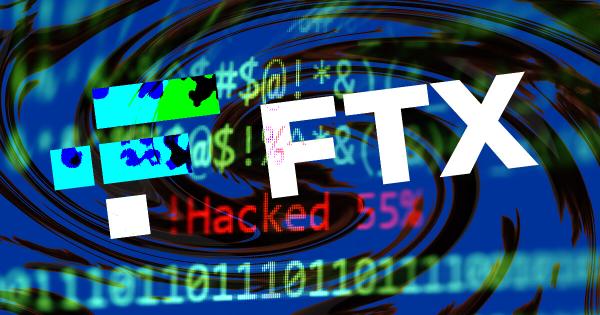 The insolvent crypto exchange FTX reports on unauthorized access. The crypto exchange hack is said to be responsible for the loss of $600 million worth of cryptocurrencies. Customers should refrain from further use of the services.
FTX reports unauthorized access
After the former second largest crypto exchange had already slipped into insolvency over the past few days , it is now losing further money. Analysts are currently talking about total losses of 600 million US dollars.
This is due to an attacker who gained unauthorized access to the company's wallets. Several representatives of the FTX Group are affected: In addition to the international branch FTX also FTX.US.
The company itself spread the message about the crypto exchange hack on its official Telegram channel . There, an administrator named Rey explicitly warns against using all FTX services. If users do this, there is a risk of losing sensitive data.
FTX has been hacked. FTX applications are malware. delete them (…) Do not go to the FTX website, as Trojans could be downloaded there.
he announces. FTX General Counsel Ryne Miller confirms this statement. A few hours later , Miller also stated that crypto exchange is currently transferring its cryptocurrencies from hot wallets to cold wallets. Although some users suspect connections, these are not obvious.
Mainly Ethereum, BNB and Solana affected by hack
The unauthorized person gains access to various coins and tokens from the blockchains Ethereum , BNB and Solana. SlowMist recently compiled a table of the stolen tokens and lists the responsible target addresses. The loot also includes 3871.69 Bitcoin worth around $65 million.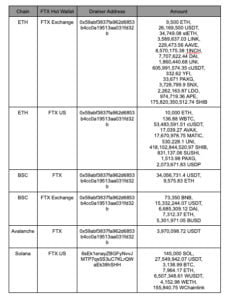 This shows that the smart contract platforms Ethereum, BNB and Solana are mainly affected by the hack. USDT on Avalanche are also affected, but have since been frozen by the publisher Tether, as has the affected USDT on Solana. The funds are from both FTX and FTX.US.
To cover his tracks, the person responsible used various decentralized crypto exchanges such as 1inch, Curve Finance or PancakeSwap. Also, he spent part of the money on Polygon.
Kraken identifies FTX hacker: who is it?
The alleged hacker is said to have also used the crypto exchange Kraken to exchange cryptocurrencies for fiat money . At least that's what security experts at the company IT testing company Hacken claim .
In fact, the head of security at Kraken confirms this thesis. He announces on Twitter:
We know the identity of this user.
Accordingly, he probably used an account identified by KYC. However, it is questionable whether the hacker would use his own identity in such a case. Whether it is about the personal details of the perpetrator remains open for the time being.
In the meantime, rumors have been confirmed that the hacker is a current or former employee of FTX. In this case, no hack occurred. The responsible person then gained access to the wallets of the crypto exchange according to the usual pattern.